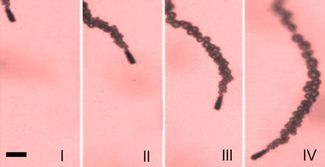 Bubble Propelled Microbots
Researchers fed mice a small drop of a liquid. Inside the drops, invisible to the naked eye, were thousands of tube-shaped, microscopic motors. The motors made their way to the mice's stomachs, embedded in their stomach linings, and released their tiny payloads: nano-size flakes of gold. The research represented a major step toward putting microbots to work in human medicine, where they could one day ferry drugs efficiently into specific organs or even specific cells.
Read More
Live for ever: Scientists say they'll soon extend life 'well beyond 120'
Fixing the 'problem' of ageing is the mission of Silicon Valley, where billions is pouring into biotech firms working to 'hack the code' of life – despite concerns about the social implications.
Read More